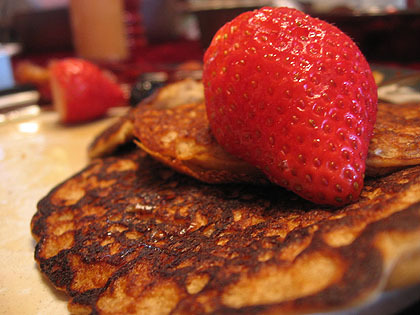 The original recipe called for vanilla soy milk. We didn't have any so I used fat-free milk plus some vanilla and a bit of honey. I also messed up the ratio — I was doing a half recipe and I accidentally did not halve the whole wheat flour, which was actually no problem. The batter looked and worked just fine. In fact, if I had used the amount of flour that the recipe originally called for, I think the batter would have been too runny. So, the recipe below is exactly how I made my pancakes. Double the whole recipe to feed more than 2-3 people.
Taste-wise, I really enjoyed these. The ginger-peach green tea added just enough flavor in the background to make them interesting, while the texture was rather light and fluffy. These are, of course, healthy pancakes and you can kind of tell that while eating them. So, just, uh add a side of bacon and you're in business. Oh! And fruit. Fresh fruit. See, healthy again!
Heart Healthy Oatmeal Green Tea Pancakes
Recipe adapted from one appearing in the Orlando Sentinel, which in turn was adapted from WomenHeart's All Heart Family Cookbook: Featuring the 40 Foods Proven to Promote Heart Health by Kathy Kastan, Suzanne Banfield and the members of WomenHeart
3/4 cup fat free milk
1 flavored green tea bags or 1 tsp loose leaf tea — for this I used Stash ginger peach green which was very good (here's the loose leaf version)
1 tbsp honey
1/2 tsp vanilla
1 cup old-fashioned rolled oats
1/2 cup buttermilk
1 tbsp canola oil
1 egg
1/2 cup whole-wheat pastry flour
1/2 tsp baking powder
1/2 tsp baking soda
1/4 tsp kosher salt
Bring the milk and honey to a light simmer (you do not want it to actually boil at all) on medium heat.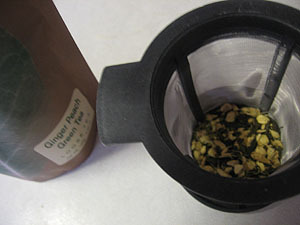 Remove from heat and add the tea bag or the loose leaf tea in an infuser. Let steep 3 minutes. It will smell very good. You will be tempted to drink some but don't — you need the green tea milk for the pancakes! Discard tea bag or remove infuser. Press on tea to get all of the milk out.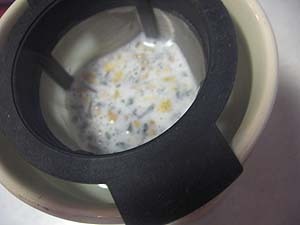 Add the vanilla and stir. Cool the tea/milk mixture to room temperature. Stir the infused milk into the oats and let stand 15 minutes.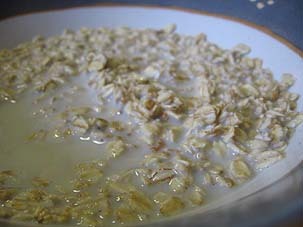 Whisk together the buttermilk, oil and eggs. Stir in the oatmeal mixture, flour, baking powder, baking soda and salt.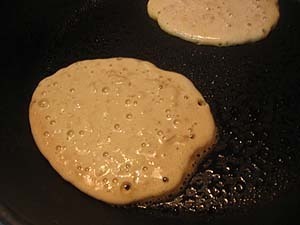 Coat skillet with nonstick cooking spray. Place on medium-high heat. Drop batter by 1/4 cups onto the griddle. Cook 2 minutes, or until bubbles appear on the top and the edges begin to look dry. Turn and cook 1-2 minutes, or until lightly browned.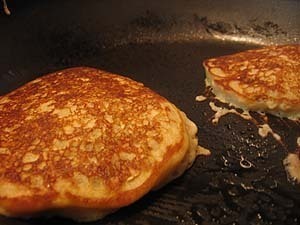 Serve with maple syrup and fresh fruit. Or, as mentioned earlier, bacon.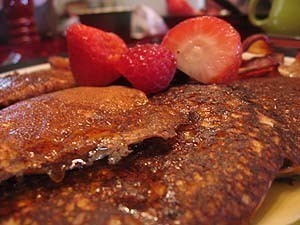 This makes a great weekend breakfast and will definitely give you enough energy to trudge all over Mt Tabor Park for a nice, if a bit chilly, 2.5 mile walk.