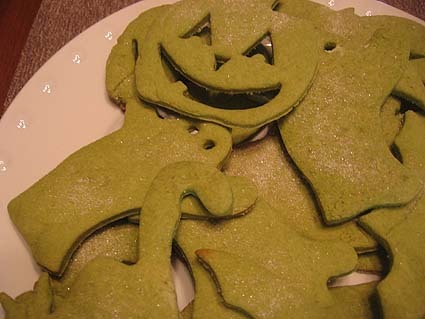 Monday night, the WCC round-up* will be up but for now…it's cookies. I altered a recipe I found at the Whole Foods web site to include matcha (powdered green tea). Where can you get matcha? Try here!
I rolled them out and used my new, cool Halloween cookie cutters for some great shapes — a bat, a ghost, cat, jack o'lantern and a witch boot. But, you could also just roll the dough into two logs, chill and slice into rounds. That would work just fine too.
I really liked the fact that this recipe calls for brown sugar. I think that it held up to the green tea taste really well.
Green Tea Halloween Sugar Cookies
1/2 cup (1 stick) unsalted butter
3/4 cup packed light brown sugar
1 tsp vanilla extract
1 large egg
2 cups all-purpose flour
2 tsp matcha
1/2 tsp non-aluminum baking powder
1/4 tsp sea salt
2-3 tbsp milk
3 tbsp granulated sugar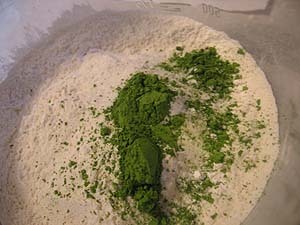 In large bowl with electric mixer at medium speed, beat butter, sugar and vanilla until light and fluffy. Beat in egg until well blended.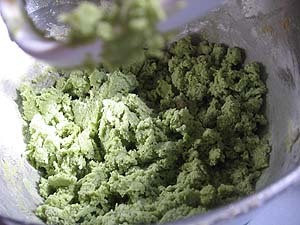 In a separate bowl combine flour, matcha, baking powder and salt; then, with mixer at low speed, beat into butter mixture to blend well. If mixture is a little dry, add 2-3 tablespoons milk until it comes together. Form dough into two balls. Wrap in plastic and refrigerate until firm, at least an hour or overnight.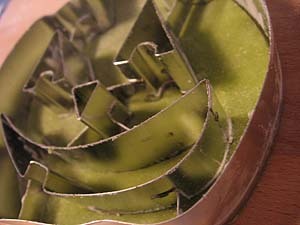 Preheat oven to 350 degrees. Roll dough out on a lightly floured surface and cut into shapes using cookie cutters. Sprinkle unbaked cookies with a little granulated sugar.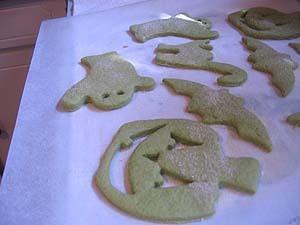 Place about 1–1/2 inches apart on ungreased, parchment paper-lined baking sheet. Bake 10–12 minutes. Cool on wire rack and store in an airtight container. Or use shot glasses and stand the up on your dining room table for a photo…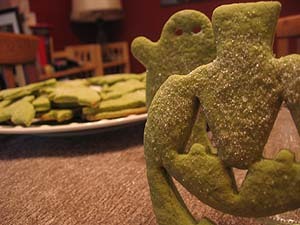 * If there are any stragglers, you have until 4PM PST, to get me your entry.