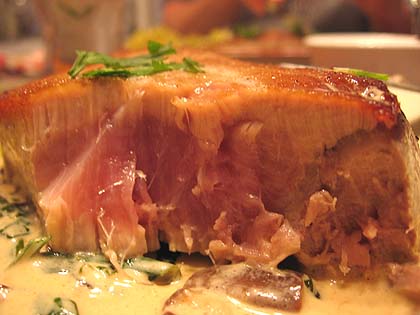 I'm typically a pretty simple girl when it comes to tuna — a grill pan, some oil, salt & pepper and some soy sauce for dippin' and I'm done. Okay, maybe a few more things but you know what I mean.
However, the other day, I had some cream left over from the basil ice cream, so I decided to go all out and make this cream sauce for our tuna. Damn! It was good.
Pan Seared Tuna with Ginger-Shitake Cream Sauce
Adapted from Bon Appétit magazine
2 6-ounce ahi tuna steaks, each about 1 inch thick
2 tbsp peanut oil
1 tbsp butter
4 thinly sliced green onions
1/4 cup chopped cilantro
1 tbsp finely chopped, peeled fresh ginger
2 garlic cloves, chopped
4 ounces fresh shiitake mushrooms, stemmed, caps sliced
3 tbsp low sodium soy sauce
1 cup whipping cream
2 tbsp fresh lime juice
Garnishes: Lime wedges & fresh cilantro sprigs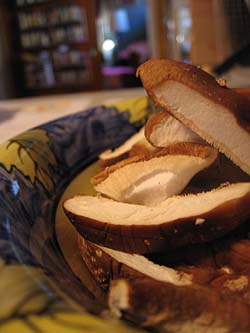 Sprinkle one side of tuna steaks with pepper and a little salt. Heat 2 tablespoons oil in heavy large skillet over high heat. Place tuna steaks, pepper side down, in hot oil and sear 2 minutes. Sprinkle side facing up with a little salt and pepper.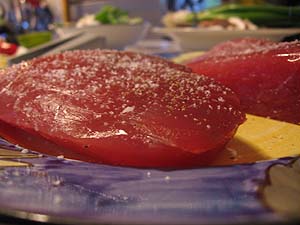 Turn tuna over and continue cooking to desired doneness, about 1-2 minutes for rare. Transfer tuna to a plate and cover with foil to keep warm.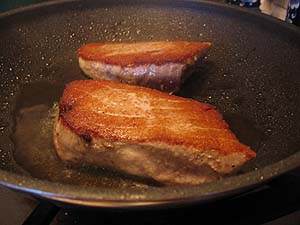 Add butter, sliced green onions, cilantro, ginger and chopped garlic to same skillet and sauté until fragrant, about 30 seconds. Mix in mushrooms and soy sauce and simmer 30 seconds.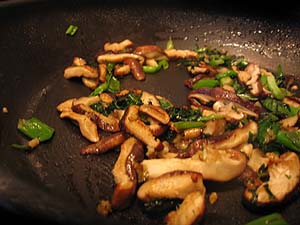 Add whipping cream and simmer until sauce lightly coats back of spoon, about 3 minutes. Stir in lime juice. Taste and add the remaining tablespoon of soy sauce if desired.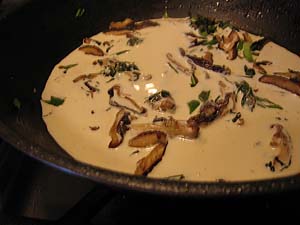 Spoon sauce onto plates; arrange tuna atop sauce. Garnish with lime wedges and cilantro sprigs, if desired.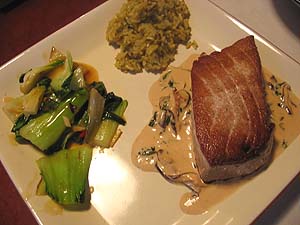 On the side
We had some green tea brown basmati rice (throw a tea bag in the water right before it starts to boil, let it steep for a minute or two before you add the rice, then remove the tea bag and cook rice as usual). Rounding out the plate was some baby bok choy — Stir-Fried Shanghai Bok Choy with Ginger, that is.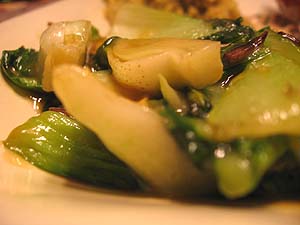 Stir-Fried Shanghai Bok Choy with Ginger
Gourmet magazine
1 (2-inch) piece ginger, peeled
3/4 lb Shanghai bok choy or other baby bok choy (about 6 heads)
1/4 cup reduced-sodium chicken broth
1 tsp Chinese rice wine (preferably Shaoxing) or medium-dry Sherry
1 tsp low sodium soy sauce
1/2 tsp cornstarch
1/4 tsp sugar
1 tbsp vegetable oil
1/2 tsp toasted sesame oil
Cut half of ginger into very fine matchsticks (less than 1/8 inch thick; about 1 tablespoon) and reserve. Grate remaining ginger and squeeze pulp with your fingers to yield 1 teaspoon liquid, then discard pulp.
Remove any bruised or withered outer leaves from bok choy. Trim 1/8 inch from bottom of each bok choy, then cut each head into quarters. Wash bok choy in several changes of cold water and dry in a colander or salad spinner until dry to the touch.
Whisk together ginger juice, chicken broth, rice wine, soy sauce, cornstarch, salt, and sugar in a small bowl until cornstarch is dissolved.
Heat wok over high heat until a bead of water vaporizes within 1 to 2 seconds of contact. Pour oil down side of wok, then swirl oil, tilting wok to coat sides. Add ginger matchsticks and stir-fry 5 seconds. Add bok choy and stir-fry until leaves are bright green and just limp, 1 to 2 minutes. Stir broth mixture, then pour into wok and stir-fry until vegetables are crisp-tender and sauce is slightly thickened, about 1 minute. Remove from heat and drizzle with sesame oil, then stir to coat.
***
In other news I start a new job soon — Internet Marketing Manager at Stash Tea. I am very, very excited and looking forward to this new position.