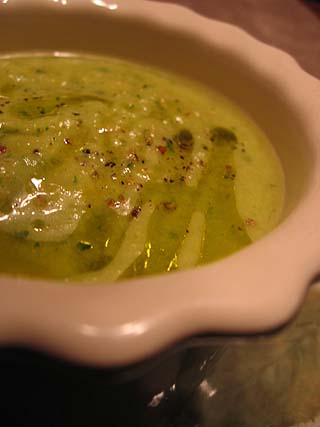 We had a nice stretch of cool, 60's to 70's weather recently. That appears to be over. Hello, gazpacho! I recently got the new La Cucina Italiana magazine and found quite a few recipes in there that I wanted to try out. This is the first one. I think the second one will be fig and cocoa smoothie.
Anyway, back to the gazpacho — I really liked it. So did jwa. I have another recipe for a peach and tomato gazpacho and also a lima bean gazpacho. So there hot weather, I am ready for you.
Zucchini Gazpacho
1 big zucchini
2 yellow tomatoes
1/2 green bell pepper
1 small sweet onion, chopped into quarters
2 cloves garlic
2 slices white bread, crusts removed
1/4 cup extra virgin olive oil
Tabasco
salt
pepper
3 tbsp parsley, chopped
juice of 1/2 an orange
extra olive oil for drizzling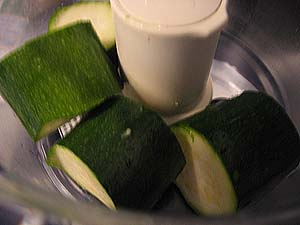 Blend the zucchini, tomatoes, onion quarters, bell pepper, olive oil and garlic in a food processor. Get it a bit combined and then add the bread, a bit of Tabasco, parsley and orange juice. Taste and add salt and pepper as needed.
Serve into individual bowls and drizzle with the olive oil. You're done. Go eat. Or, you know, just go out to eat…
Carlyle Restaurant
1632 NW Thurman Street
Portland, Oregon 97209
The other night (the night after the tasty gazpacho) we went to Carlyle Restaurant in NW Portland. So awesome. And, since I didn't have many gazpacho images for my post, I will taunt you with Carlyle pictures. Ha!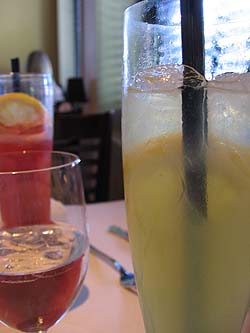 My French Lemonade (Aviation gin, Cointreau, fresh lemon juice, tonic water and a float of Chartreuse liqueur, served tall) and jwa's Caneberry cooler (House infused Raspberry and Blackberry vodka, simple syrup, lemon juice and club soda, served in a tall glass ).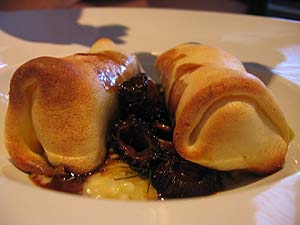 Duck Cannaloni (Slow cooked duck confit, crepes, morel mushrooms, leek fondue and truffle oil). I love duck, jwa is so-so on duck. jwa loved this duck.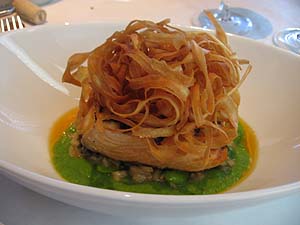 I had the Spring Chinook Salmon — grilled salmon, baby fava bean risotto, ramps, preserved lemon and cantal cheese with sweet pea coulis. Mmmmmm.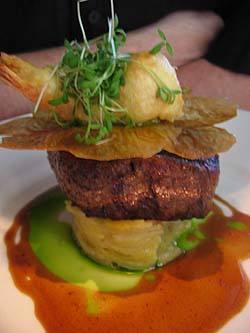 And jwa seemed completely delighted and bedazzled by his Filet Mignon — grilled Cascade Beef tenderloin, Pleasant Ridge Reserve potato gratin, ramp butter, foie gras bordelaise and Tempura Tiger prawn.
How to end all of this? Tiramisu, of course!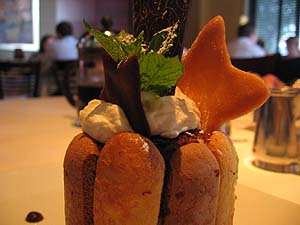 Needless to say, it was a wonderful dinner. We even got a quick tour of the big barnwood kitchen table and the private garden seating area before we left. It was all so good, I didn't even mind the napkin-refolding. Bring me more duck, salmon and sweet pea coulis and you may do whatever you wish to my napkin if I get up to use the restroom.
Carlyle definitely gets four swanky cocktails out of four swanky cocktails.