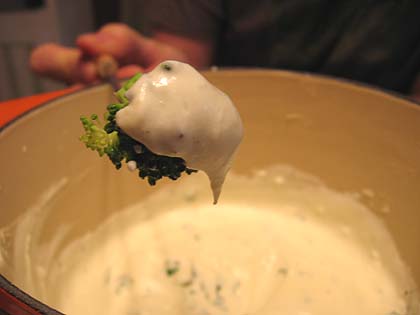 A couple of weeks ago, when the weather was nice and cool, a big pot of melted cheese sounded like a great idea. Lately, with the temperature in the high 80's, not so much.
But, we can relive those memories right here. This is based on a recipe in Fondue: Great Food to Dip, Dunk, Savor and Swirl by Rick Rodgers. This is the same cookbook that I used for my last fondue experiment, Cheddar, Roasted garlic annd Zinfandel fondue.
For this one, I changed a number of things from the original recipe — used half and half instead of cream, decreased the cream cheese, added the wine and added more seasonings.
For Fondue
1 cup half & half
1 tsp dry mustard
1/2 cup white wine (I used a pinot grigio)
1 garlic clove, minced
4 oz cream cheese, cut into small cubes, at room temperature
8 oz goat cheese (chevre), crumbled with a fork, at room temperature
1 tbsp + 1 tsp cornstarch
1 tbsp fresh lemon juice
1 tbsp minced fresh basil
1 tbsp minced fresh chives
1 tbsp minced fresh parsley
1 tsp minced fresh marjoram — (or any combination of fresh herbs that you want to use — just shoot for about 3 – 4 tablespoons total)
Salt & freshly ground pepper, to taste
Optional: 1 1/2 tsp Fox Point seasoning (This is a blend of dried shallots, garlic, chives and green peppercorns and I really love it in stuff like this)
For Dipping
Crusty bread
Blanched broccoli or cauliflower florets
Diced, cooked chicken or turkey
Diced green apples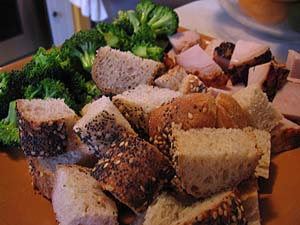 In a small pan or stove-top fondue pot, heat the half and half, wine and garlic over medium heat until bubbles appear around edges of the mixture. Gradually whisk in cream cheese until smooth.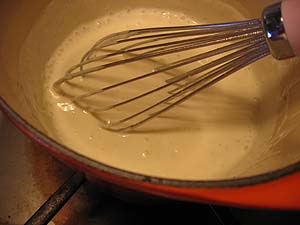 In a medium bowl, toss the goat cheese with the cornstarch, mustard and shallot seasoning blend, if using.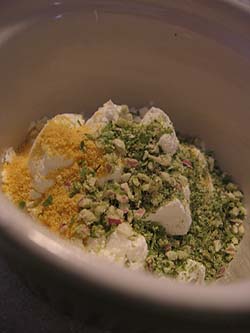 Gradually whisk the goat cheese into half and half/wine/cream cheese mixture until smooth. Cook gently since overheating makes goat cheese grainy. Continue to whisk gently until the goat cheese melts and it is all creamy. Stir in remaining ingredients (the herbs and the lemon juice).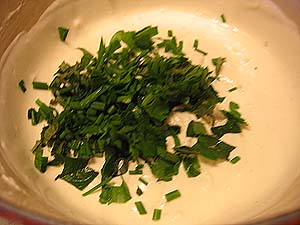 Taste, add salt and pepper as needed. Okay. Just one taste you. Leave some for the rest of us.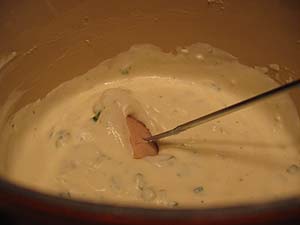 If you need to, transfer mixture to a fondue pot kept warm by a votive candle or flaming gel thingie. Since I just made mine in the stove-top safe fondue pot, I just carried it into the dining room and set it on the base, over the gel flame (on low).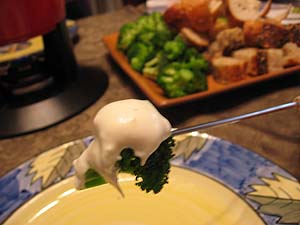 Dip the bread, broccoli, apple and chicken into the fonddue. I found doubling up on the chicken and apple to be especially tasty in the creamy, herby cheese.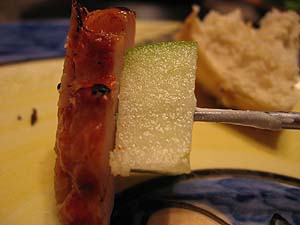 Also this week: salads, salmon and almond cake. Woo!