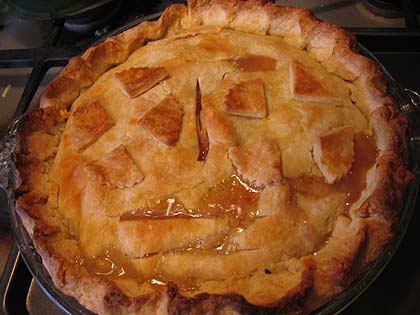 Edited to add: Round Up is up.
Waiter, There's Something in my…#2, is hosted this month by Cook Sister. I had to think long and hard for this event. Pie. What kind of pie? It's winter, so no peach pie. A savory pie? Maybe. Hmmm… This clearly was going to take some effort.
One of the requirements for the pie, is that it is covered with two crusts (as opposed to an open-face type of pie). In the end, I chose sweet and went with a ginger pear pie because it sounded interesting and also, I like pears a lot. And jwa likes pie in general, so it was a good choice all around. This was also the first time I had ever made a closed-variety, two-crust type of pie.
The recipe comes from Bon Appétit Magazine and I made it pretty much exactly as written. I used the suggested Buttermilk Pie Crust recipe and it turned out really well. You could also use a prepared pie dough but this one was very easy to make. You could even make it ahead of time and have it all ready for when you want a pie. And who doesn't want a pie at some point in a given week?
Ginger Pear Pie with Golden Raisins
3/4 cup golden raisins
1/4 cup plus 2 tbsp minced crystallized ginger
3 pounds ripe medium pears (about 6 – 7), peeled, cored, sliced 1/2 inch thick
1/2 cup sugar
3 tbsp butter, melted
2 tbsp quick-cooking tapioca
1 tbsp fresh lemon juice
pinch of salt
1 1/4 tsp ground cinnamon
1/4 tsp ground nutmeg
2 Buttermilk Pie Crust Dough disks (or two prepared pie dough rounds) — recipe below
1 egg
2 tbsp milk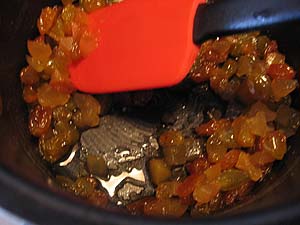 When the liquid is mostly absorbed, it should look like this
Combine raisins and ginger in heavy small saucepan. Add enough water to just cover. Simmer over low heat until liquid is absorbed, about 15 minutes. Cool completely.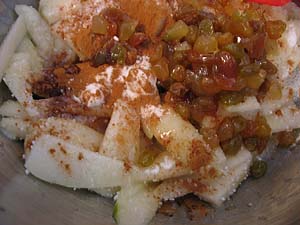 Position rack in lowest third of oven and preheat to 400°F. Combine pears and next 7 ingredients in bowl. Stir in raisin mixture. Roll out 1 pie crust disk on lightly floured surface to 13-inch round (about 1/8 inch thick).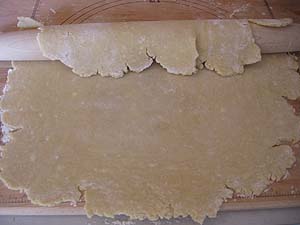 Roll up dough on rolling pin and transfer to 9-inch-diameter glass pie plate. Gently press into place. Trim edges of crust, leaving 1/4-inch overhang. Spoon pear mixture into pan, mounding in center.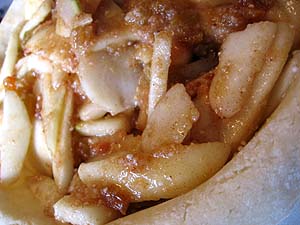 Roll out second crust disk on lightly floured surface to 13-inch-diameter round. Roll up on rolling pin and unroll over pie. Trim edges, leaving 3/4 -inch overhang. Fold overhang of top crust under edge of bottom crust. In terms of trimming the crust, I try to err on the side of not trimming enough. I figure a bit too much is much easier to work with than not enough.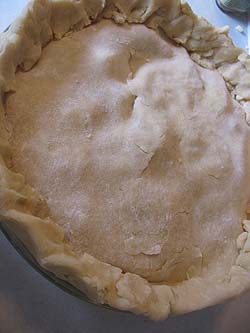 Not perfect. but it got the job done
Pinch edges together to seal. Crimp edges to make decorative border. Gather and reroll scraps. Cut out decorative shapes. Beat egg with milk in small bowl for glaze. Brush top of pie with glaze. Make several slashes in top crust so steam can escape. I did not go super fancy here — I just used a biscuit cutter with decorative edges, cut out two of those, quartered them and arranged on top. If you have a leaf cookie cutter or a pear cookie cutter that would look really nice on top of the pie! Or just be lazy like me and cut out a circle.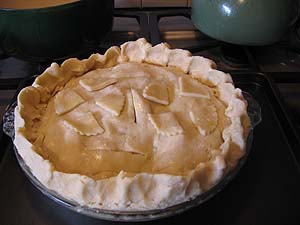 Bake the pie until crust is golden brown and the juices bubble up through slashes. Cover the crust edges with foil if the top of the pie is browning too quickly, about 1 hour.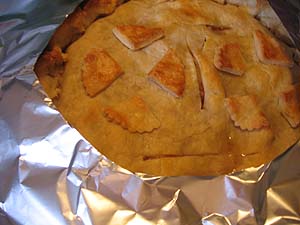 My edges did start to get a little brown after about 40 minutes, so I cut out a foil edge-protector
Remove from oven and let cool a little bit. I believe we dug into it after about a half an hour. Use your own discretion here.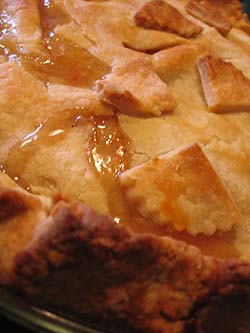 Serve warm with vanilla ice cream and you will think you have gone to pie heaven. Wow. This was really good. In fact, I am thinking the next time I host Thanksgiving (ha! Not next year! Hooray for jwa's aunt!) I will include this in addition to a pumpkin pie.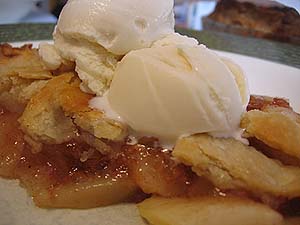 Oh, so here's the crust recipe. You will probably need this too.
Buttermilk Pie Crust Dough
2 1/2 cups unbleached all purpose flour
2 tbsp sugar
1 tsp salt
1/2 cup (1 stick) chilled unsalted butter, diced
1/2 cup chilled solid vegetable shortening
1/4 cup plus 2 tbsp buttermilk
Combine flour, sugar and salt in large bowl. Add butter and shortening. Cut in using fingers, pastry blender or food processor (pulses!) until the mixture resembles coarse meal. Add buttermilk and stir with fork until moist clumps form (or pulse with the processor).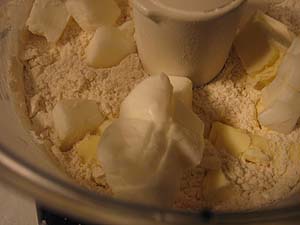 Press together to form dough. Divide dough in half. Gather dough into balls; flatten into disks.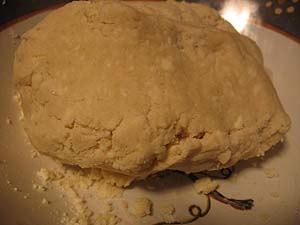 Wrap separately and chill 1 hour. (Can be prepared ahead. Refrigerate 1 week or freeze 1 month. Let dough stand at room temperature to soften slightly before using.) Makes enough for 2 crusts.
Thanks again to Cook Sister for hosting this month's event!