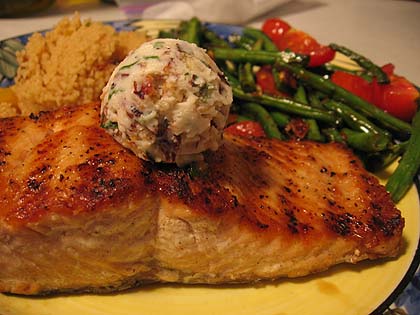 The theme for this Weekend Cookbook Challenge #9 was the opposite of last month's Foreign food. This time it's the food of your country/culture. I took this one set further by using the cookbook, Tastes of the Pacific Northwest and focused on the food of my region — namely salmon and hazelnuts, which are very Oregonish.
This is a very simple yet delicious thing to do with salmon. You basically just grill it with olive oil, salt and pepper and serve it with an herbed hazelnut butter. It was very good and the recipe yields leftover butter that you can do all kinds of decadent and crazy things with at a later date.
Grilled Salmon with Hazelnut-Lime Butter
For the Butter
1/4 pound unsalted butter, softened
1 tbsp fresh lime juice
small handful of fresh cilantro (6-7 sprigs), stemmed & chopped
1 clove garlic, minced
salt & pepper
1/4 cup minced and toasted hazelnuts (also known as filberts)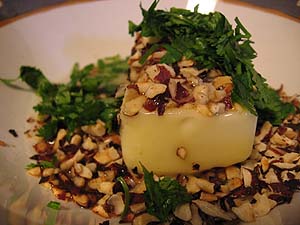 Combine butter, lime juice, cilantro, hazelnuts, garlic and a little salt & pepper and beat until silken in texture. Taste and adjust seasonings.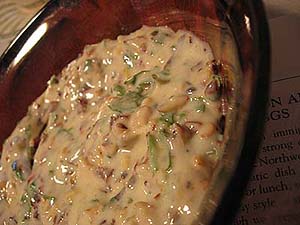 Allow flavors to meld for about an hour in the refrigerator before using. Save the leftovers in the fridge to use with chicken, potatoes, pasta or whatever else you can think of using this butter on (you will come up with a lot of ideas). If you don't like cilantro, parsley, dill or even basil would probably work well too.
For the Salmon
1 lb salmon fillets (figure on using somewhere about 1/3 – 1/2 a pound fillet per person)
olive oil
salt & pepper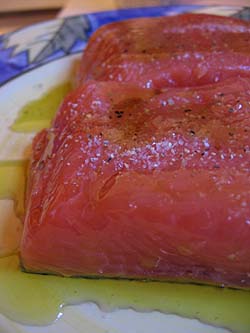 Heat up a grill pan or your outside grill. Rub fish with olive oil and season with salt and pepper.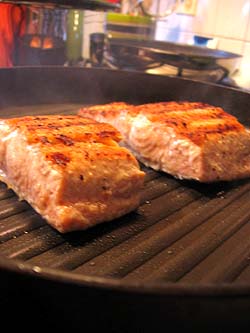 Grill about 3-4 minutes per side or until done to your liking. You should have nice and crusty grill marks on the top. Delicious! Serve the salmon with a dollop of the butter on top. I found that a mini ice cream scoop worked perfectly for this task. It'll melt down onto the salmon and whatever else you have on the side.
Speaking of Sides…
With the salmon, we had some sautéed green beans, garlic and cherry tomatoes.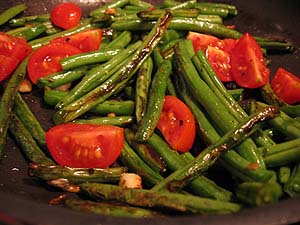 Simply trim and wash the green beans and sauté in some olive oil with salt, pepper and about 5 halved garlic cloves for about 7-8 minutes, over medium-high heat. Adjust the heat as needed — you want color but no burning. When the green beans are about a minute from being done, add a nice handful of halved cherry tomatoes.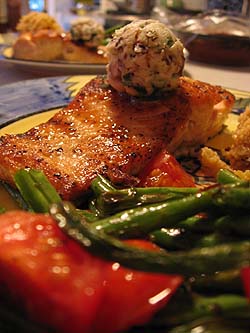 This goes well with a Pinot Noir — from Oregon of course — and some rice pilaf or couscous on the side. Thanks again to Sara at Weekend Cookbook Challenge!