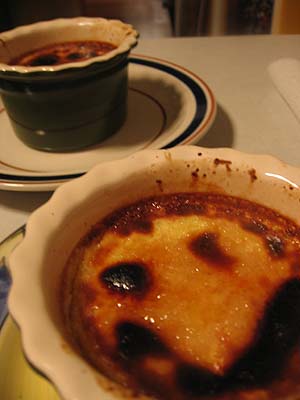 Hello! I am back from Montana and will post about that soon. But, Sugar High Friday is due so that will have to come first. Oh, well — I can't resist, here's a quick picture.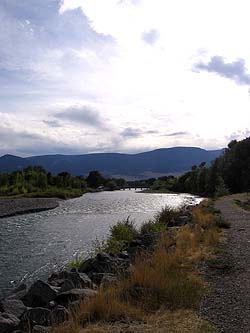 Yellowstone River, Livingston, MT.
Okay, fine. Twist my arm. One more.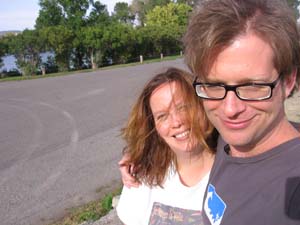 jwa and I in Sacajawea Park.
It was a great trip and it was nice to see my mom and my aunt. We ate at 2nd Street Bistro one night and I made Paula Deen's insanely good pesto/sun dried tomato cheese ball (my name for it, not hers).
Now for the creme brulee…
This month's Sugar Hight Friday is hosted by A Veggie Venture and the theme is a surprise inside. I came across this Emeril recipe and thought rice (in this case brown rice) in a creme brulee was a bit of a surprise. The surprise is also inside. Ha!
In addition, I am on a bit of a creme brulee kick lately, so that really sealed the deal when picking a dish to make for this event.
SHF23: Cinnamon & Brown Rice Creme Brulee
This recipe makes four creme brulees — double it up for eight.
2 cups half and half (or heavy cream)
1/2 cup sugar
3 egg yolks
1 cinnamon stick
2 dashes of ground cinnamon (not more than 1/4 tsp)
1 cup cooked brown rice
4 tsp sugar (I used my trusty vanilla sugar)
In a saucepan over medium heat, combine the half and half (or heavy cream) and the cinnamon stick. Stir bring to a simmer. Remove from the heat and let sit 15 minutes and then remove the stick. The original recipe said to dissolve the sugar into the cream and mix the cinnamon into the yolk, but I assume they mixed those up as I don't really know how you would mix a cinnamon stick into egg yolk. Do you?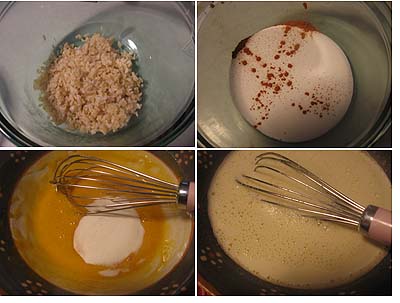 Add two dashes of ground cinnamon to your sugar, (just a bit for an extra kick) In mixing bowl, whisk the sugar and cinnamon dashes into the yolks a little at a time, until all the sugar is absorbed and your mixture is nice and thick. Next, slowly whisk the hot cinnamon/milk mixture into the yolk. You can also temper it first but if you do it slowly, whisking constantly, you should be fine.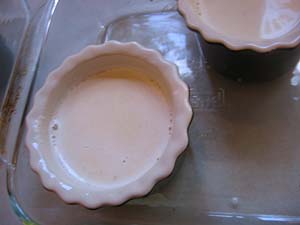 Stir in the rice and cool while you preheat the oven to 300 degrees. Place the ramekins in a large oven-proof rectangular pan. Ladle the mixture into 4 (8-ounce) ramekins. Pour in enough water to come up about 1/2 of the side of each ramekin. Bake for 1 hour to 1 hour 15 minutes or until the center is firm to the touch, but still soft (and the custard is between 165-180 degrees).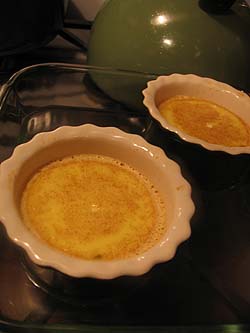 Remove from the oven and cool completely. Cover and refrigerate until chilled. Sprinkle a teaspoon of the sugar over the top of each custard. Using a hand-held torch, caramelize the sugar on top of each custard. Place on individual serving plates and serve.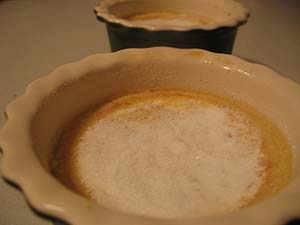 You can also, like I did, use the broiler in your oven. Just don't be watching The Soup and forget about the creme brulees for a couple of minutes while watching Joel's tribute to Whitney and Bobby and their break-up. But, you know what? The darker spots on top were really very tasty! So, thank you, Whitney & Bobby!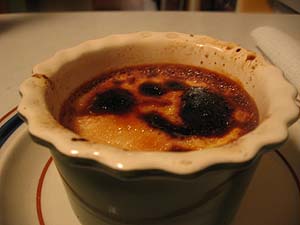 The custard did get a little warm with the extra broiler time and thus became a little less firm, but the flavor was so amazingly good — almost like a cinnamony rice pudding with a hard sugar top (yep, it made a cracking noise when tapped with a spoon).
If you use a torch, your custard will not warm up at all and it will stay nice and cool while the sugar burns and hardens. If you do use your broiler, you may want to let it sit for a few minutes after coming out of the oven in case it does heat up a little — we just couldn't wait that long before digging into it.
I imagine making this again in the colder months — so what if the custard heats up a bit then? I'll just call it warm cinnamon rice pudding with a caramelized top!
Thanks again to Alanna and for hosting this month's event at her blog A Veggie Venture!
Tagged with: SHF23.
Next week: Montana, a shrimp & pasta dish and more!