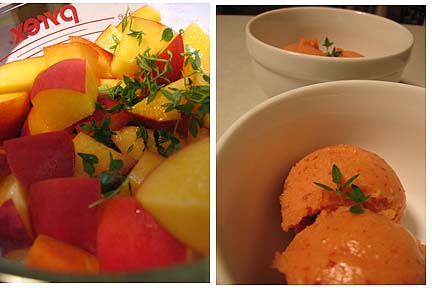 This is intensely peachy and lightly thymey. It's a great summer treat. I can't believe how much I love my ice cream maker. It does so many things — gelatto, ice cream, frozen yogurt, sorbet and even frozen drinks. What can't it do? Fine. It can't knit a blanket. Whatever. Who wants to eat a blanket anyway?
I used chardonnay in this recipe but water will work just fine. I just happened to have an open bottle of wine on hand. The basic recipe is from the Ultimate Ice Cream Book, which is really coming quite indispensable around the house. You can peel the peaches if you like, but I think the flecks of darker color makes it look all pretty.
Peach & Thyme Sorbet
1 1/2 lb peaches, pitted and slices (4-5 peaches)
1/2 cup Chardonnay or similar white wine (or water)
1/2 cup sugar
1/4 cup light corn syrup
juice of 1 lemon (or a bit less if your lemon is super juicy)
1/4 tsp salt
2 tsp fresh thyme leaves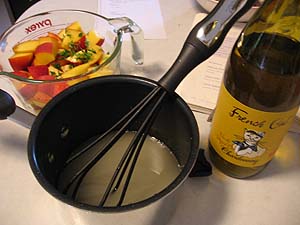 Combine the sugar, wine and corn syrup in a small pan. Place over medium heat and stir until the sugar dissolves. Boil without stirring for 1 minute. Remove from heat and allow to cool.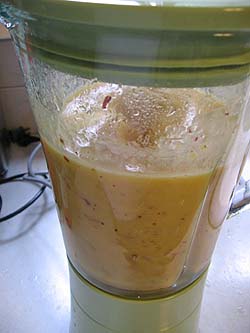 Place the peaches in a blender or food processor, along with the lemon juice, salt and cooled sugar syrup. Process until the mixture until smooth. If you think your blender may need a little help, start by only adding half the peaches at first, get those processed and smooth, ten add the remaining peaches.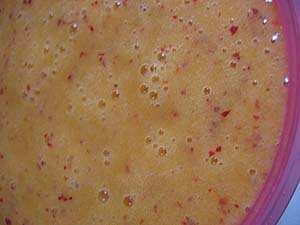 Freeze in your ice cream maker. As usual, it'll be soft serve when done. Freeze in the freezer for a couple of hours for a firmer sorbet.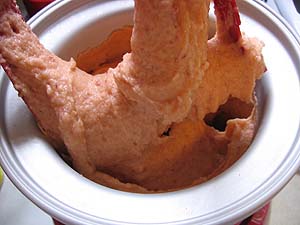 Enjoy with a few sprigs of fresh thyme.