This month's theme is "Lucky Number Seven" — a very open-ended theme. As I was browsing through cookbooks, I picked up Anthony Bourdain's Les Halles Cookbook. I had never made anything out of it before and thought it would be fun to do so for this WCC. Be sure to check out all of the entries here.
After a few seconds of browsing — there it is. Gigot de Sept Heures. Seven hour lamb. It doesn't get much better (or luckier) than the word seven in the title! But, it's July, I thought. There's no way I will want the oven on for seven hours in July!
Silly me, this is Portland. Sure, in the beginning of the month we were in the 100's but last weekend we had a high of 71 on Sunday. A high. Awesome. If that's not the beginning of Post-Spring lamb weather, I don't know what is. This was especially convenient too, as I hadn't managed to find another recipe that I wanted to do for this challenge.
A Few Differences
I made a few changes in the way that I prepared this — in contrast to the written recipe. First, there's only two of us. Instead of using a 6-pound, bone in leg of lamb, I opted for a 2.5 pound, boneless one. Now, eventually I think I will try this again with the big, full-on, honkin', boned leg but for a test run, I felt okay using the smaller piece.
Okay, so there's one more thing — I peeked. Hangs head in shame. See, you make a flour and water grout and seal up the pot while you bake it. Around hour four I got really nervous, thinking the Dutch oven would explode and I cracked it open a little. Yeah, I know, I shouldn't have done that. It wouldn't have exploded, I know. I know that now! Next time, no peeking, I promise.
Gigot de Sept Heures
1 leg of lamb (about 6 lb, bone-in or a 2-3 lb boneless one will work too)
20-24 cloves of garlic (just buy 2 heads), slice 3-4 cloves into small slivers, leave the other whole
1/4 cup olive oil
salt & pepper
4 carrots (or a whole bunch of tiny ones)
2 small onions, sliced
1 bouquet garni (1 bay leaf, a few sprigs of thyme and a few sprigs of flat-leaf parsley — I also added a rosemary sprig — all tied together with kitchen twine, bundled in cheesecloth if you have any lying around)
1 cup dry white wine (I used red, as I didn't have any white wine on hand)
1 cup flour
1/2 – 1 cup water
Optional: 1/2 cup chicken or beef stock (add in with the wine if using a smaller piece of meat, to keep it a bit moister during the cooking time)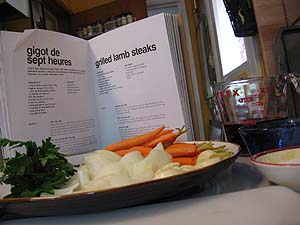 Prep the Lamb
Preheat the oven to 300 degrees. Using a paring knife, make a lot of small incisions in the lamb and shove a sliver of garlic clove into each hole. Do this until you get tired of doing it — add any leftover slivers of garlic to the pot. When that is done, rub the lamb well with the olive oil and season it with salt and pepper.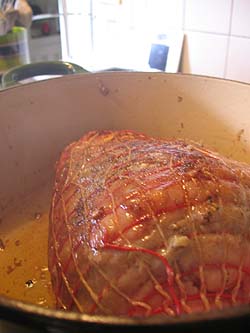 Oh, here I browned the lamb quickly. The recipe doesn't say to do this but I thought it might give it a nicer color. I think it did but you certainly don't have to.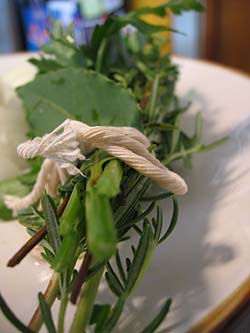 Add all of your vegetables to the pan. Pour in the wine and add the herbs.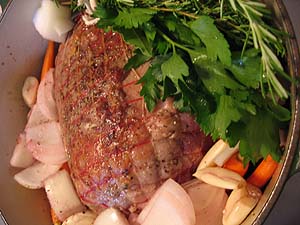 Next, you'll make the flour/water grout. Mix the water into the flour until you have a thick paste. Use this to seal the lid to the pot. You can either place it along the inside and press the lid down into it, or run it alongside the outside of the pot, sealing it that way. I did a bit of both.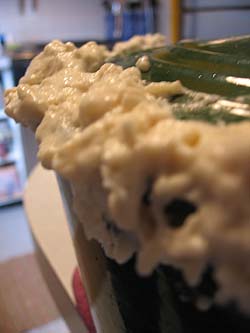 Now, into the oven. For seven hours. Don't peek! Oh and can I talk about the smell briefly? Wow. The house smelled so good. It was amazing. Being able to smell the lamb cooking all day alone is worth the seven hours in the oven.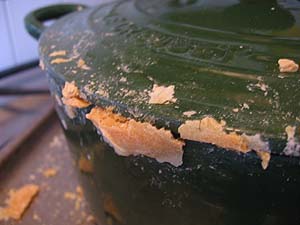 After the seven hours, then you will want to crack the lid off. You will think it won't come off and start to panic. Don't worry, just keep trying to pry it off with a butter knife or other object of your choice. If you actually break your object of choice before you get the lid off — then you panic. Nah, it's okay. Just grab a bigger implement!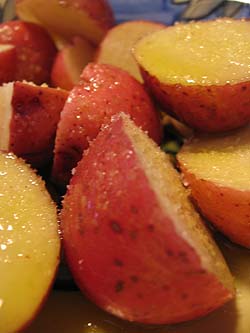 Before that point however, you may want to pan roast some potatoes. Let's say about 15 minutes before the lamb is scheduled to come out. I just halved a bunch of small red potatoes, sprinkled with salt and cooked them in some olive oil and let them brown and crisp up. I sprinkled with pepper and fresh, chopped rosemary right before removing from the heat.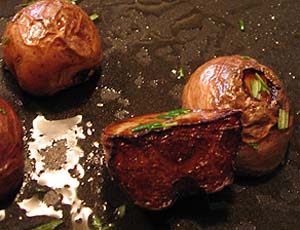 Okay, okay, let's check out the lamb.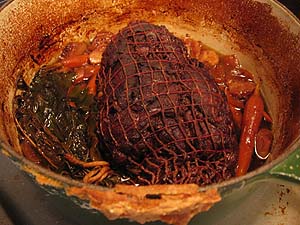 If it was wrapped in cooking twine, cut that away. The meat should be falling apart with slow-cooked tenderness. I lifted it out with the carrots and the other veggies I could find (some of the garlic melted into the sauce) and tried to strain out most of the fat and oil. The remaining lamb/wine liquid was excellent poured over the lamb and served on the side.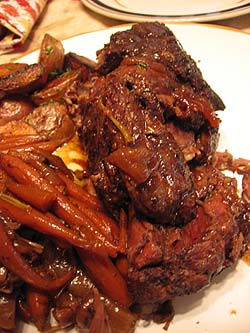 This was really good. The lamb was, for the most part, super tender. There were a few spots where it seemed a bit dry but I am blaming this on my peeking. It could also be using the smaller, boneless piece of meat. But hey — we both really liked it and the amount of tender, amazingly flavored lamb was much more than the few drier pieces. Next time, if using this size of lamb leg, I think I will add a little chicken or beef stock along with the wine and maybe pull it out of the oven after five hours.
If you are thinking about trying this recipe, I definitely would. I thought it was worth it and I'm going to make it again this Fall or Winter for sure.
Leftovers
As there are only two of us, we had leftover lamb. This I used the next night in a soup using a big can of whole tomatoes, some chicken stock, onions, carrots, lima beans and orzo. I also added some dried oregano and cinnamon to the mix and it was really, really tasty. The drier pieces of lamb were fine in this as the soup liquid sort of rehydrated them.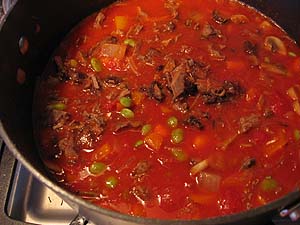 We each brought some for lunch on Tuesday and the rest is destined for the freezer, to be enjoyed one day this Fall. Thanks again to Sara at Weekend Cookbook Challenge for a creative theme this month!