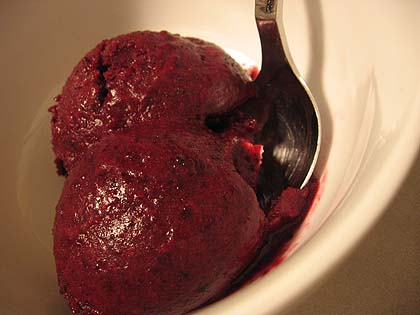 Here is my entry for Sugar High Friday 21: Ice, Ice baby, hosted by The Delicious Life. And if you haven't seen the original posting you really should. It's very funny.
My original plan was to make nutella gelatto but I altered that plan when I had some extra blueberries lying about and jwa posed the question, "Do we really need nutella gelatto?" I replied, "Yes, of course we do," but after a little more thought, decided to go with the healthy option. Although, I think it's a little suspect when the person who just made a pineapple upside-down cake questions my nutella gelatto plan — but I suppose that's a moot point now. I just thought I'd point it out.
One thing I do really love about this sorbet, though, is that it is so simple. Fruit + liquid + sugar + a little lime juice. That's it. And, in using so few ingredients, the blueberries really stand out in this sorbet.
For the liquid, the original recipe called for water. This is where the Je Mange la Ville adage, "Why use water when you can use wine?" kicked in. I was thinking of using a zinfandel but we didn't have any around. Then I remembered the Bonny Doon Bouteille Call that we had in the house. It was sweet, thick, all raspberry tasting and just waiting to be used for something delicious. I thought it would work great in this and it did. I would also imagine that using raspberries instead of blueberries would work well too with the boo-tay call.
I decreased the sugar in the original recipe from 2/3 cup to 1/3 cup because the wine is on the sweet side. You will need to adjust the sugar based on what liquid you use. Oh and speaking of the original recipe, I found that in The Ultimate Ice Cream Book.
Blueberry Bouteille Call Sorbet
1/3 cup sugar + 2 tbsp
1/3 cup Bouteille Call wine (or a zinfandel — if using a non-dessert wine or water, adjust the sugar accordingly)
1 heaping quart blueberries
juice of 1/2 lime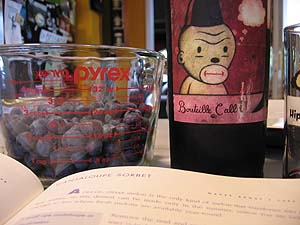 Combine sugar and water in a small saucepan and place over medium heat. Stir until the sugar dissolves. Remove from heat and cool to room temperature.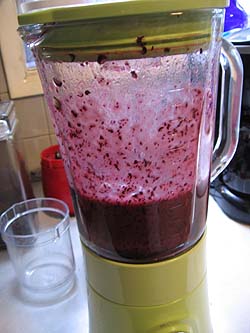 Place 1/3 of the blueberries in a blender with the wine syrup. Blend, then add the remaining blueberries and blend until smooth. I start with 1/3 of the blueberries just to make it easier to start blending in the beginning.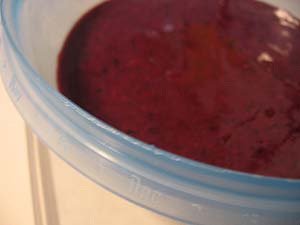 If desired, strain through a colander to remove some of the skins. Freeze in your ice cream maker according to the manufacturer's instructions. It'll be soft but ready to eat.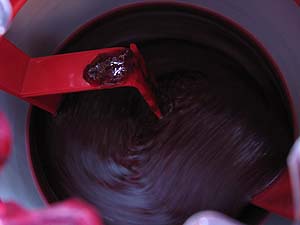 Freeze for 2 hours for firmer sorbet.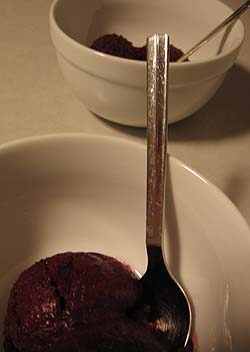 Thanks again to Sarah at The Delicious Life for hosting this event! Coming up: Monday: Greek Chicken Pie — I promise!
Tagged with: SHF21.