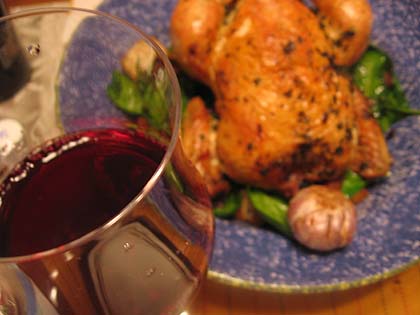 This IMBB's theme this month — graciously chosen and hosted by Derrick at An Obsession with Food and Wine — is stale bread. Wonderful things can be made from stale bread — things like french toast and bread pudding and croutons and this spinach and bread salad.
I came across this recipe at Epicurious. Once I read through it, I knew I had to make it. The recipe is originally from Bon Appetite. That recipe also had a chicken component but I actually opted for a different roasting method for my chicken.
The directions I followed are from The Bouchon Cookbook by Thomas Keller. It just seemed so simple and the reviews were practically fawning in their awe and recommendations. Now, I know that the main star of this meal should be the stale bread, as that was the IMBB theme but….well…huh…crackling, salty, tasty chicken skin. That is my defense!
I have to say, both jwa and I were in gastronomic heaven while eating this meal. The chicken was amazing. Who knew throwing a bird into a super hot oven and not touching it (no basting, no turning, no nothing!) at all for the next hour would produce something so succulent and tasty? The bread and the spinach mixed together with all the pan drippings and currants/raisins to create a savory, crunchy and sweet bedding for the juicy meat of the chicken.
I bought my chicken at New Seasons — a nice 3.5 pounder. However, their small chickens were sporting some lemon and parsley. So, my chicken had a few strands of lemon zest and some chopped parsley on top. It seemed to work fine but a plain chicken is what the original recipe calls for.
The one thing to keep in mind with this recipe though — there were reviews on Epicurious that cooking the chicken at this high of a temperature produced a lot of smoke in some kitchens. I didn't have a big problem with that but it is something to be aware of while making this meal. Make sure you have good ventilation and that you are starting with a pretty clean oven!
Roast Chicken with Bread & Spinach Salad
One 3- to 4-pound chicken
Kosher salt and freshly ground black pepper
2 teaspoons minced parsley and/or thyme
6 cups 1-inch cubes of stale bread
1/2 cup low-salt chicken broth
1/3 cup red wine vinegar
1/2 red onion, diced and cooked in 1 tsp olive oil over low heat until golden and caramelized
1/2 cup dried currants & golden raisins
3 bunches fresh spinach, trimmed (about 2 cups)
1 head garlic
To start, if your bread isn't stale, pop it into a 250 degree oven for about 10 minutes.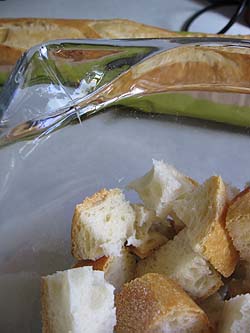 Preheat the oven to 450°F. Rinse the chicken, then dry it very well with paper towels, inside and out.
Salt and pepper the cavity. Just for fun, I added half a red onion to the inside of the bird. Next, comes the trussing. Fold the wings back under the bird and tie the legs together with cooking twine. At least, that is my version of trussing.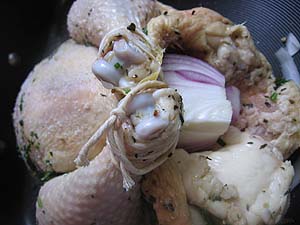 Salt the chicken liberally. I used almost a tablespoon of salt. It sounds like a lot but after the roasting, it was really good. The skin is all crispy and salty. Trust me, it just works. (Or rather, trust Thomas Keller).
I cooked my chicken in the bottom half of the oven so that I didn't really have to worry about the parsley burning. The skin also just got golden. If you want more color, place your rack about halfway in the oven. Likewise, if you want to live dangerously, sprinkle some chopped parsley and/or thyme on your chicken before roasting. If you want to make sure it doesn't burn, just sprinkle with chopped herbs after roasting.
Oh, I also sliced the very top off of a head of garlic, wrapped it in foil and let it roast in the oven with the chicken for about 40 minutes.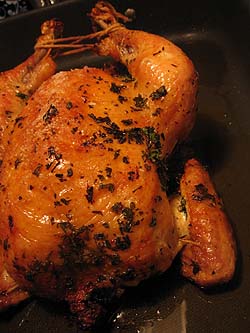 Roast the chicken in the hot oven until it's done, 50 to 60 minutes. The skin should be crackly and golden. If during the cooking time, the chicken does get too dark, you can tent it with foil. Move to a cutting board and let it rest 15 minutes before carving.
Meanwhile, pour pan juices into 4-cup measuring cup. Pour fat off top of pan juices, returning the bottom 1/3 of liquids to roasting pan. Add chicken broth and vinegar to pan. Bring to boil atop stove, scraping up browned bits. Add the cooked onions and currants. Simmer 3 minutes to reduce liquid slightly.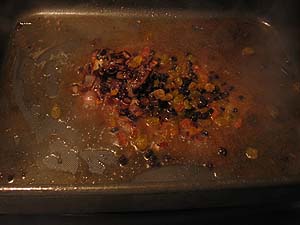 Remove from heat. Add bread to pan and toss with juices.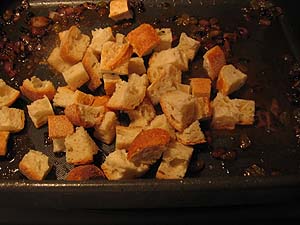 Mix in Spinach and stir while it wilts a bit. Season with salt and pepper. Place bread salad in a big bowl and top with whole chicken.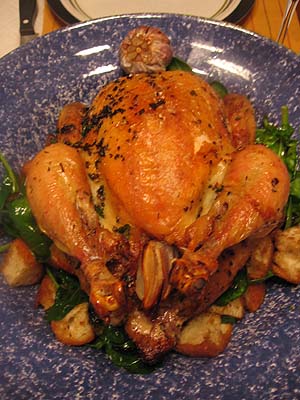 I figured this would make a nice presentation and also, when carving the chicken, all of the juices would drip onto the bread salad. Yeah. Brilliant.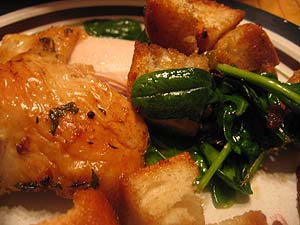 The skin was just so good and the chicken was very moist. And the bread cubes! Wow, they soak up all of the drippings and the vinegar and it was all just awesome. Rounding it out, the raisins and currants add a little bit of sweetness.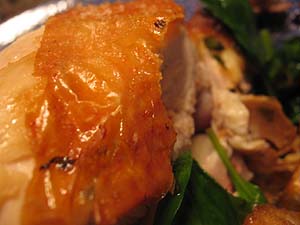 Place the roasted garlic head on the platter. Not only does it look pretty, but you can squeeze the paste onto bites of chicken and bread salad as desired.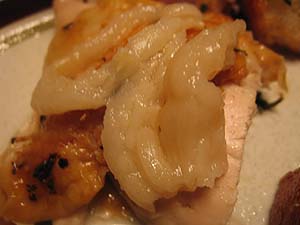 Oh and since it's in the title photo, I'll mention that we had our chicken and bread salad feast with a bottle of Benton Lane pinot noir. Thanks again Derrick for hostng this event!
Tagged with: IMBB25.