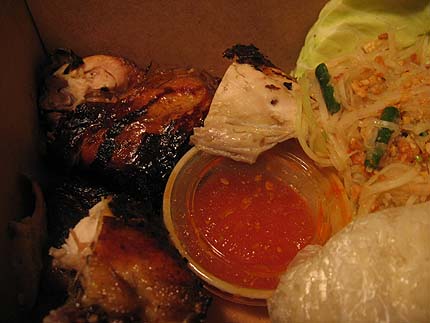 Pok Pok Thai
3226 SE Division
Portland, OR 97202
503-232-1387
The other day I read Food Dude's enticing review of Pok Pok Thai (read it if you haven't yet — you will want to stop there for dinner on the way home, trust me) and seriously could not wait to try this place. It all sounded so good! We live about five blocks away, how perfect! It seriously took all of my willpower not to blow off the pork loin roast I was going to make Saturday and not go to Pok Pok right then and there.
But, we managed to make it to last night (only because they are not open Sunday) and got take out. We both had the pok pok special — 1/2 a roast hen, dipping sauce, sticky rice and papaya salad — and for the first ten minutes all we did is eat and proclaim to each other just how tasty it was.
me: oh my god, this is so good.
jwa: this *is* really good.
(few minutes of eating pass)
jwa: wow.
mlb: I know. The skin is….wow. I love the skin.
jwa: Yeah and it's all so interesting tasting. So…good. And spicy! Mmmmmm….
(more happy eating)
mlb: Oh, we should do this again soon.
jwa: I think so. Now I am going to steal the rest of your Thai ice tea with lime. Mahahahahahaha! *slurp* *slurp*
Yes, I really liked it all very much, although, I thought the papaya pok pok was a little too spicy for me but I'm just like that. jwa, however, loved it all. Next time, I will either try the Muu Sateh (pork loin with peanut sauce) the Khao Soi Kai (chickeny, coconuty, noodley soup) or hell, maybe I'll just get a whole bird and sticky rice for myself. Because that, was seriously good.
I think we will be back quite a bit.
Plus, it's also fun to say "pok pok."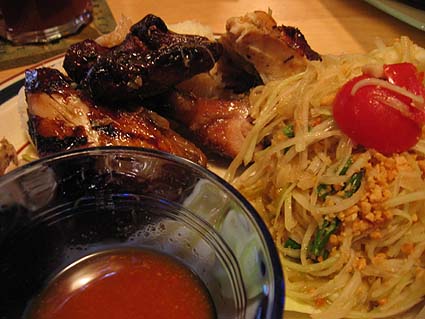 And, since I like grading with little food images so much, our Pok Pok dining experience definitely gets three limes out of four!