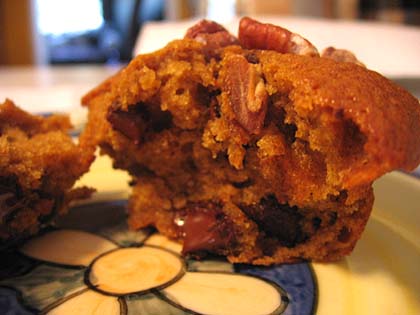 These are one of my most favorite of all Fall treats! I first had pumpkin chocolate chip muffins at a coffee house in Muncie, IN, while I was in grad school. It was called the MT Cup. Christy, (who just happens to have a pumpkin pancake recipe up today), Cindy and I would go there a lot and they had pumpkin chocolate chip muffins. So, so good. I started making these when I still lived in Indiana and I try to make them a couple of times each Fall. I can't believe I didn't remember them this year until Christy mentioned them Monday.
What a fun week — starting with a pumpkin recipe and ending with one!
This recipe is from the old stand-by Better Homes & Gardens Cookbook (the early 90's edition). Below, I just upped the pumpkin by a 1/4 of a cup, added chocolate chips and topped the muffins with pecans.
Pumpkin Chocolate Chip Muffins
Dry:
1 3/4 cup flour
1/3 cup sugar
2 tsp baking powder
1/2 tsp salt
1/2 tsp cinnamon
1/4 tsp nutmeg
pinch of cloves (1/8 tsp or less)
Wet:
1 cup pumpkin puree
1 egg, beaten
3/4 cup of milk
1/3 cup vegetable oil
1/2 – 1 cup chocolate chips (depending on how chocolatey you want them)
1/4 cup pecans
Preheat oven to 400 degrees. In a large mixing bowl, stir together dry ingredients and make a well in the center. Combine wet ingredients (egg, pumpkin, milk & oil). Add pumpkin mixture all at once to flour mixture. Add chocolate chips. Stir until just moistened. Spray muffin cups with non-stick cooking spray (or line with paper cups). Fill 2/3 of the way full. Sprinkle top of each muffin with pecans. Bake 20-25 minutes until golden. (You can also use a toothpick in the center to check for doneness). Remove from pan and serve warm.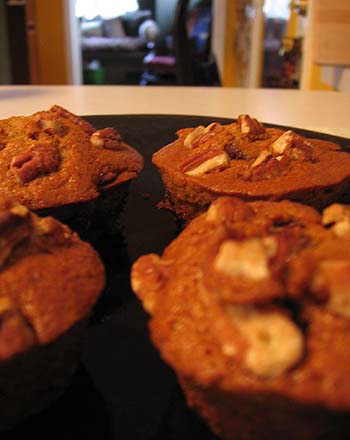 In kitchen gadget news…
Yesterday, I was wandering around Linens n Things (because I like both "linens" and "things") and I saw one of those deals that a right-minded person can hardly pass up. A two-piece Calphalon Knife Set with a Chef's Knife and a Santoku Knife for $29.95.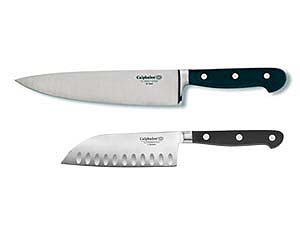 They have the same deal going at Cooking.com if you're not by a Linens n Things. Plus, I think Cooking.com is doing a flat rate shipping special right now.