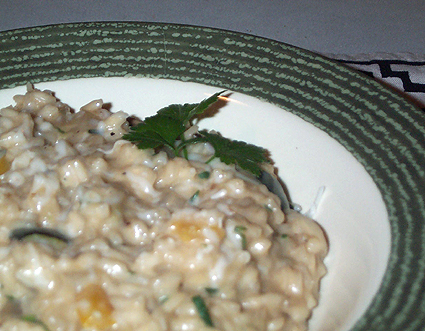 I love Fall. No really, I am completely ensorcelled with the season that is Autumn. I think some of it is my 18+ years of being on an academic calendar but it's also the layering and the sweaters and Halloween and the cool crisp air. Ohhh, and the apple crisp. And stew. And pancakes.
And risotto!
I started making risotto a while ago, using recipes in this book — Best 125 Meatless Main Dishes. It's to the point now, where I really don't even need to consult the book (although the black bean, tequila and jack cheese risotto recipe in here is amazing). One cup of Arborio rice to 3.5 cups of hot broth and 1/2 cup wine, veggies, cheese and baby, you've got a risotto goin'.
So, after raving about my pork chop sauce the other week and with the drop in temperature, I decided the time was right to make the first risotto of the season. I decided to base it on the sauce flavors — mushrooms, Madeira wine, fresh herbs and uh, zucchini because we had some in the fridge that I needed to use. Oh, I also threw in a little chopped yellow bell pepper, because I had that too. So, the rule here is, feel free to improvise.
Wild Mushroom & Zucchini Risotto
2 tbsp olive oil
a mix of mushrooms, sliced — I used shitake and cremini, but any combination (or all white button) would work
1 small zucchini, chopped
1 small onion, chopped
1 clove garlic, minced
1 cup Arborio rice (the kind of rice is important — you want a very starchy type that will produce a creamy consistency)
1/2 cup Madeira wine (Port will work here too, so will sherry, if all you have is a bottle of open red or white wine? Go ahead and use it!)
3.5 cups chicken stock, simmering on the stove
1/4 (or less) cup goat cheese
1/4 cup parmesan cheese
1/4 cup chopped herbs (I used parsley, chives and tarragon)
salt & pepper
After getting the stock in a pot and heated up, sauté the mushrooms in 1 tbsp of the olive oil. I do these first (and by themselves), as they tend to soak up a lot of liquid. When they are done, set aside. I let mine go until they are soft, have released some liquid and are just a little bit golden.
Next, add the other tbsp of oil to the pan and sauté the onions and zucchini over med-high heat. Cook until soft. Add the garlic and cook for about a minute more. Next, add the rice and stir to coat. Incorporate the wine into the rice and veggies — stir until absorbed. Now, start adding the hot chicken stock about 1/2 a cup at a time, stirring until it is absorbed each time, before adding the next 1/2 cup. Personally, I may go a minute or so without stirring, but I really try to stir it very often. I know there's one school of thought that says you don't have to stir but I've never tried it that way. I learned that you stir — so I stir.

Before you add the last 1/2 cup of chicken stock (the risotto should be looking pretty creamy by now), add the cooked mushrooms. As the last batch of stock absorbs into the risotto, it's time for the cheese and herbs to join in. Taste. Season with salt, pepper and — if you like things a little spicey — a couple of red pepper flakes.
Feel free to sprinkle a little more parmesan on top of the individual servings.
Put on a sweater, uncork the wine, serve and enjoy.