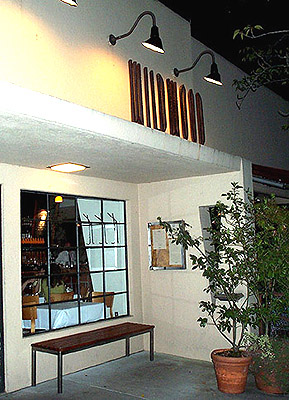 Wildwood
1221 NW 21st Ave.
Portland, OR 97209
(503) 248-9663
Where tasty, local ingredients come together
And merge on your plate, in an arty heap
— But it isn't cheap
Big Night Out:
As I mentioned in a previous post, we planned on going to Wildwood for jwa's big, fancy, birthday dinner out. As it happened, we ended up putting it off a week and going last weekend, instead of the weekend before as originally planned. Does that matter? Probably not, but, full disclosure and all that.
The evening started pleasantly with a cocktail (a cosmo, yum!) and the perusing of the menu. Sometimes, jwa likes to emulate JD on Scrubs and get an appletini, but he refrained this evening.
Here I should admit that I cheated and snuck a peak at the online menu earlier, because I was curious and I wanted to start thinking about what to order as soon as possible. What? Is that weird?
Starters:
I had the leaves of romaine with creamy garlic dressing, red onions, capers & parmesan, jwa had a fig bruschetta with mascarpone and arugula. It also had some sautéed baby zucchini on each piece. I liked my salad a lot (although, I think I have a very high garlic tolerance because the dressing didn't seem that garlicky to me). He liked his bruschetta, but commented that next time he'd try a salad. The salad of local, seasonal greens with toasted hazelnuts, balsamic vinaigrette & currants sounded pretty good — especially with the optional cheese for 75 cents — bargain!
Entrees:
Decisions, decisions, decisions. We were both eyeing the halibut — pan seared Pacific Coast halibut on sweet corn & chanterelles with organic carrots & crème fraîche sauce — while jwa was also considering the mesquite roasted Cattail Creek Farm leg of lamb & chop with elephant garlic-crème fraîche custard, fresh shell beans & olives.
I was weighing the options of the pan roasted Muscovy duck on braised lobster mushrooms, with summer squash griddle cakes & black currant-pine nut chutney versus the previously mentioned halibut, as well as the pork chop on seared white cheddar polenta, slow cooked greens & blackberry coulis & peach compote. I finally chose the duck, which I hardly ever get but really like and jwa made a last minute switch and ordered the seared Draper Valley Farms chicken with house made chicken sausage, hand cut noodles, Borlotti beans & Frankette walnuts. He does that a lot. He says he's considering a couple of different things, but then will order something completely different and out of the blue. He's sneaky.
For the wine, we continued the regional theme and got an Erath Vineyards Pinot Noir (because we weren't drinking any fucking merlot). Kidding. I like merlot. Why all the merlot hate? What did merlot ever do to you, Miles?
Post-Meal Thoughts:
I really enjoyed my medium-rare duck — it was a little crispy on the outside, a little juicy inside and the currents really complimented the meat well. The griddle cakes were very creamy and not quite as crispy as I would have expected, but still quite good. As for my dining companion, jwa's eyes practically rolled back in his head as he tasted the chicken sausage. He seemed to enjoy his meal quite a bit.
Below, is a shot of my plate (not quite as artfully arranged as when it was placed before me, I had, alas, already taken a bite when I remembered to photograph it) and the dessert we later split. We went with the melon gelato with blackberries and an almond butter cookie. Although the apple pie with caramel ice cream was a close second choice, but wow — we were both stuffed!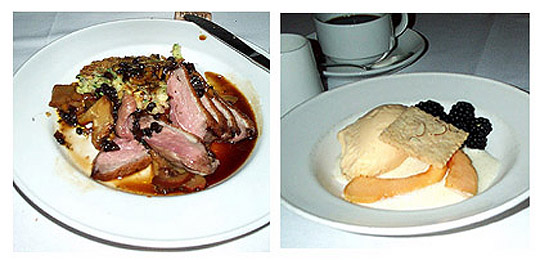 To Recap:
Atmosphere: Very nice, with subdued lighting and white tablecloths and white dinnerware on the tables. There's an open kitchen design so you can see food being prepared and grilled. The curvy and angled ceilings give it a funky look in back. There is also a nice bar area in the front of the restaurant.
Service: We had excellent and attentive service. Our waiter even brought jwa a new saucer — with a discreet napkin lining — after he accidentally sloshed some coffee into his old saucer. Both amusing and considerate!
Food: Interesting choices on the menu, including a vegetarian entree. I really like how they use local ingredients. Everything we had was excellent…one of my only less than perfect observations — more garlic.
Overall: We enjoyed our meal a lot. We probably wouldn't eat here without a special occasion but for that it was perfect. It would also be a good place to bring relatives or out of town guests. Sure, it was a bit pricier ($120 without tip for a cocktail, two starters, two entrees, a bottle of wine, coffee and one dessert) than our typical meal out, but completely worth it for a special dinner. In addition, we never felt rushed while we were there (about two hours), which is always a good quality.
Wildwood earns three and a half corkscrews out of four corkscrews.