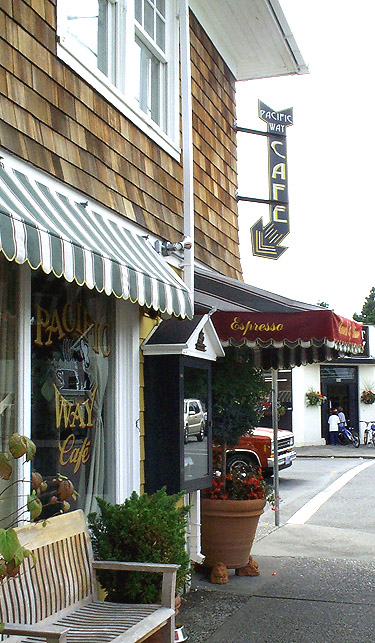 Pacific Way Cafe & Bakery
601 Pacific Way
Gearhart, OR 97138
503-738-0245
We went to the coast on Sunday, which was nice, if not a little chillier than we had expected (and a little less sunny). The drive itself was actually sun-filled and warm until about 10 miles from the coast — then everything got overcast. Oh well, it was still relaxing and worth the trip.
And here is where I will give the following disclaimer: I have a cold. I am taking sinus-stuffy-head-runny-nose-may-cause-drowsiness medicine and am currently in a fuzzy/spacey haze and buffered from the bright and harsh world. That being the case, it's quite possible that this post will make even less sense than the coffee monkey one. So, you know, you've been warned. Continuing bravely on…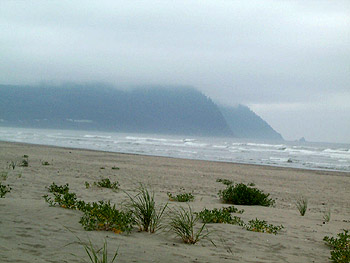 I really like going to Gearhart. I enjoy the rocky beaches of Northern California, but can also appreciate the nice, sandy, flat beach at Gearhart. Great for walking, collecting sand dollars and hanging out with a good book and good company. On Sunday, we brought a big beach blanket and read — myself, The Geographer's Library, while jwa plugged away on Book Three of The Baroque Cycle.
After a suitable amount of time was spent lazing and reading on the gray, cloudy beach — it was time for lunch (and the real topic of this post).
The Pacific Way Cafe is probably in my top five favorite restaurants in all of Oregon. I don't think we've ever had a bad meal here. Not even a meh meal. Always with the good meals. In fact, whenever we stay on the coast for a couple of days — we're conveniently across the street here, at the Gearhart Ocean Inn.
Lunch: Bring on the Creamy Gorgonzola Dressing!
Since we mosied into the place around 3:00 pm, there was no waiting. Nice. It seems this place has gotten more and more popular every year. We got a big table in the back, a room decorated (like the whole restaurant) with comfortable pine tables and old, black and white photographs on the walls — and a quirky fetish for Scottish Terriers.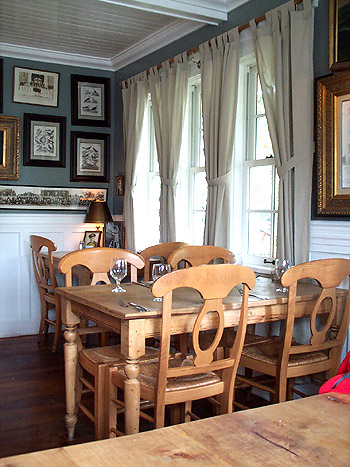 The lunch menu has tasty sandwiches, salads, and a few heavier entrees. Previously, I've had the Turkey Sandwich (with provolone and a horseradish / cranberry relish) and the Grilled Ham Sandwich, with cream cheese and a pineapple salsa and probably a few other things I can't remember right now. But this day, I tried the Barbequed Chicken Sandwich, with provolone, tomatoes and red onions on homemade focaccia and a side salad with the creamy gorgonzola dressing. They have really amazing homemade bread, so sandwiches are a great choice for lunch. There really aren't enough words to describe the creamy gorgonzola dressing, so I won't even try, because I'd have to invent new words and with the fuzzy/spacey thing I've got going on here, I'm not sure that'd be a good idea. Suffice to say that it is delectably delicious.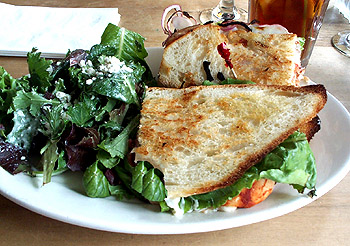 jwa got a hamburger with cheese and bacon — the waitress asked if he wanted cheese or bacon and his eyes lit up as he, without much hesitation and rather enthusiastically, replied, "both!" Upon getting his burger, he actually lost the power of speech briefly after taking the first bite. I would have photographed his burger, but it was gone moments after the plate was set down on the table.
We both finished practically everything edible on our respective plates and rolled away from the table quite happy — a table where, two years before, we ate an entire Cilantro-Chicken Pizza, drank amber ale and listened to NPR. It's a good table.
My only related complaint is that when we went to the bakery next door to buy some bread and other assorted tasty things to bring home — they were out of everything. How does that happen? Especially when you are open until 9:00 pm and it's only 4:14 pm. Hey, Pacific Way Cafe & Bakery — make more bread and almond croissants, damn it!! The next time (for my part), I will come earlier but you bake enough to supply your demand, okay? Great. See you then.
To Recap:
Atmosphere: A very pleasant and homey interior. Sturdy pine tables throughout with three different "dining rooms". A plethora of old photographs line the walls. Apropos of nothing, the women's restroom has a bathtub filled with plastic alligators and beach rocks.
Service: Always friendly and nice, even when they are busy. There's one waitress that has been there every time we have gone. She's good humored and just a bit sassy — we like her!
Food: Mmmmm! Excellent. Dinners feature seafood, chicken, beef, pork & vegetarian choices. Nice wine list. Great specials and appetizers. jwa still raves about some beef tenderloin dish with a cherry sauce he got a few years ago and I have greatly enjoyed every meal I've ever tried.
Overall: We are quite fond of this place and I imagine we will continue to eat here for practically every meal when we stay in Gearhart — because we are kind of predictable like that but also, because the restaurant is very good.
Four Pepper Grinders (Out of a possible four). Woo!